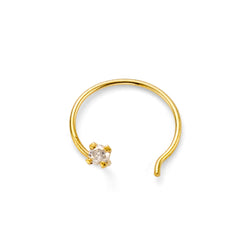 Precious Diamond Nose Stud
Enthralled by the ultra-luxe beauty of ethically sourced precious stones, this diamond twist nose stud will offer you a sleek, luxurious and contemporary style.
STELLAR 79. WEAR IT YOUR WAY. YOUR STYLE. 24/7.
Collection: Precious
Metal: 18k Gold Vermeil on Sterling Silver
Gemstone: Diamond
Birthstone: Diamond is the birthstone for those born in the month of April
Dimensions: Diamond Diameter: 1.5mm; Carat Weight: 0.003cts; Diamond Quality: I; Diamond Clarity: SI
As a slow-fashion sustainable brand, we avoid excess packaging and use jewellery boxes made from a mix of recycled and wastepaper which is 100% recyclable. To help us further reduce our environmental impact, this piece has been consciously created using recycled metals.
PRNS01
To clean your jewellery use a soft, dry, non-abrasive cloth. We do not recommend the use of any jewellery cleaning products.
To preserve the quality of your jewellery remove all pieces before any contact with water, hand sanitiser, products, perfume, hairspray, lotions and deodorants and do not wear for prolonged periods in the sunlight to help preserve the long lasting colour.
We also recommend that you store all jewellery separately and in an air tight container in a cool, dark and dry place to maintain and protect your jewellery.
All jewellery comes packaged in a sleek black and white branded jewellery box. STELLAR 79 is committed to being environmentally friendly by avoiding excess packaging and using jewellery boxes made from a mix of recycled and waste paper which is 100% recyclable. To further minimise packaging, orders with multiple pieces will be packaged together where possible, unless requested otherwise in the notes section at the checkout.